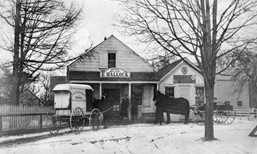 Imagine it's around 1880 and you're on the old South Country road (Montauk Hwy), heading east by horse and carriage, passing the twin ponds and Forge River. As you trotted along you would have noticed Edmund Hallocks home on the north side of the road and just roughly two hundred feet further, the Moriches Post office and General Store, just shy of the Barntique Village. This Post Office was one of the oldest on the Island, beginning with the Fanning family back in 1827. Edmund Hallock took over the position in 1877. For many years, it was the only one of three post offices in all of Suffolk County, the others being Babylon and Sag Harbor.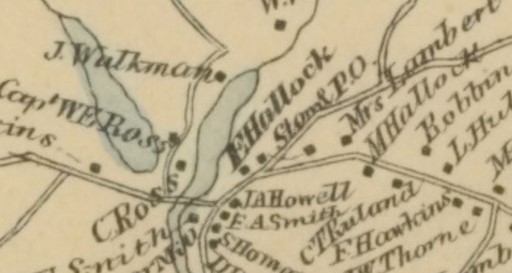 Edmund Hallock's General Store and post office, pictured below, still resides today at the back of Barntique Village, turned into a little antiques shop called Farmhouse Finds. Charles Hallock, Edmund's son, continued in the same position for a short period until 1919. All told, that's nearly 100 years of service by the same family, quite remarkable.
With the addition of the saw and paper mill at the ponds, Moriches or West Moriches continued to grow throughout the 19th century, and become the main service area for the estates and population of the Mastics and Shirley. During the early 1920s, this all changed with the development of Mastic Park and the general store at the corner of Montauk and Herkimer, also a post office.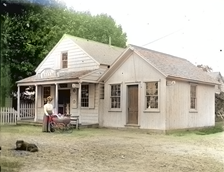 I recently stopped by Barntique Village and got to walk through the original 1820s building. The store proprietor was kind enough to point out an etching of Hallock's signature on one of the store window panes.The postal service eventually replaced the old building and moved the location to the south side of the street where it is today. As always, please feel free to get in touch with me for more information.
Yours in history,
Brad C. Shupe