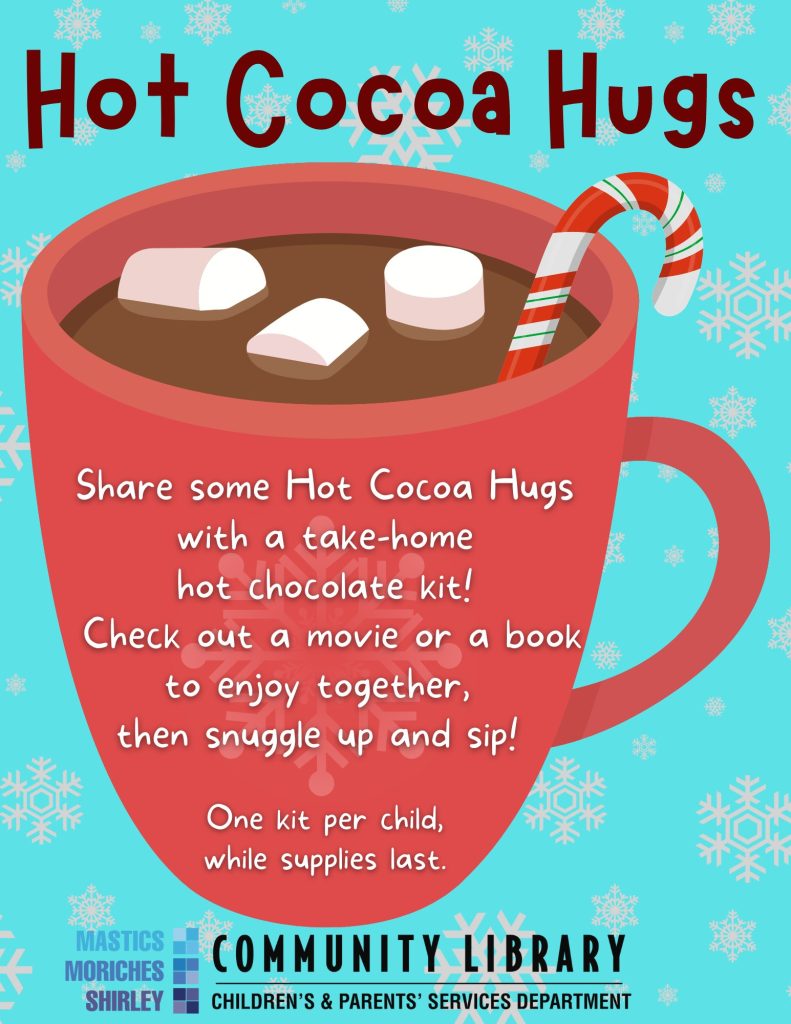 December is here and the holiday season has fully arrived! It's a busy time of year no matter what holidays your family celebrates, and we all have one goal in common: family connection. We all want to make the most of this special time of year, making happy memories with the young ones in our lives. Material things are more expensive than ever this year, but your Community Library has lots of ways to help you connect without spending a lot of money. 
Take a look at our December programs for seasonal fun! Our Holiday House programs on December 14th is full, but you can check local discount stores for Gingerbread house kits, or keep it super simple at home: Buy some plain cookies, a can of frosting and some sprinkles and let the kids go crazy! They will remember the fun and silliness of spending time together, not how fancy the decorations were. Put some holiday music on and enjoy!
Ugly Sweater Decorating drop-in for families is coming up December 14th. Just bring in a sweater and your creativity and we will provide all you need to jazz it up! Keep an eye on our Facebook and Instagram to see what fun drop-in programs will be happening during the winter break.
Our Holiday collection of books and DVDs is available at the Mastic Rec Center, we welcome you to stop in for a book or DVD. Choose a story or movie and then stop by and ask for a "Hot Cocoa Hugs" kit to complete your cozy experience! We'll be giving out one per child while supplies last.
Don't forget! Your Community Library offers streaming music, movies and much more for free on Hoopla and Kanopy. Library staff is more than happy to help you get those services set up if you need help. Just reach out!
So many of our neighbors have beautiful light displays this time of year. Put on some holiday music and take a drive, or bundle up for a walk around your neighborhood at dusk! William Floyd Middle School teacher John Digham has created a wonderful map of dozens of houses with awesome light displays that will show you great places to visit for free! Visit his Facebook page, LI Lights Map, or follow this direct link to the map.
https://www.google.com/maps/d/u/0/viewer?mid=14bVfLIk4ULRqezfYwgPIQAErxdE&ll=40.709528162243025%2C-73.5124496592871&z=9
There are some beautiful drive through light displays, like the Girl Scouts displays at Smith Point and South Haven Park, follow this link to purchase tickets. https://www.gssc.us/en/event/holidaylightshow.html
Do the kids need something new to do on the cold dark afternoons? Make play 'snow' at home? You just need cornstarch and some light oil such as baby oil or almond oil. Scoop some cornstarch into a bowl and add a few drops of oil at a time, mixing well in between. When the cornstarch holds together and is 'squeaky' like snow, you're all set! You can even add some glitter. Pull out some plastic animals or figures that you already own and create a winter scene on a cookie sheet or tray. See what the kids can find around the house to make your snow scene even more fun!
Whatever December looks like for your family, be sure to take the time to enjoy those family connections.