A popular summertime destination for the residents of the Mastics and Moriches is Great Gun Beach, located on the Fire Island seashore just East of Smith Point. Upon doing a search on the web I found an article titled "Old Time Duck Hunting" by author and Moriches resident Van Field. What follows is an explanation as to why the beach is called Great Gun.
"At the East End of Smith Point County Park is an area known as Great Gun beach. It is reached by boat down the Great Gun channel from the inter-coastal waterway at Moriches Bay buoy 14. In the late 1800s duck hunting boats were outfitted with what amounted to cannon. They were #4 deck mounted shotguns. A few shots with these "great guns" and the hunter had but to scoop up the hundreds of dead ducks to deliver to market. Keeper "Rose" Gordon of the Moriches Lifesaving station used to supplement his income by arranging gunning parties near the station. He was close enough to be called in an emergency at the station." – provided bylongislandgeneology.com
During the late 19th century, hunters would use what was called a "Punt Gun" (pictured below) which may be the same type of weapon referred to in Mr. Fields article.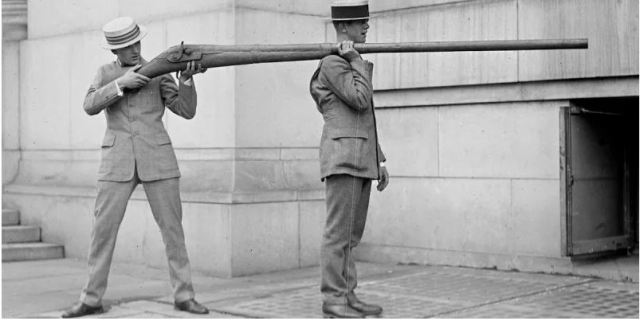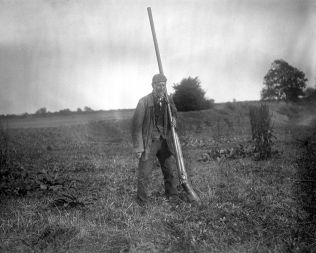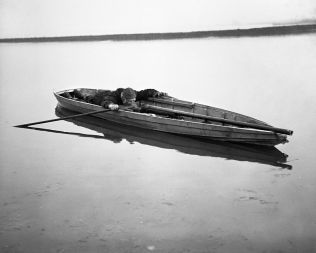 They were called Punt Guns because the boat they were mounted to was referred to as a punt boat. A punt boat was perfect for duck hunting because they were small flat bottom boats with a square-cut bow. The large guns were capable of killing hundreds of ducks with only a few shots fired. I've included a few pictures above provided by the wiki commons.