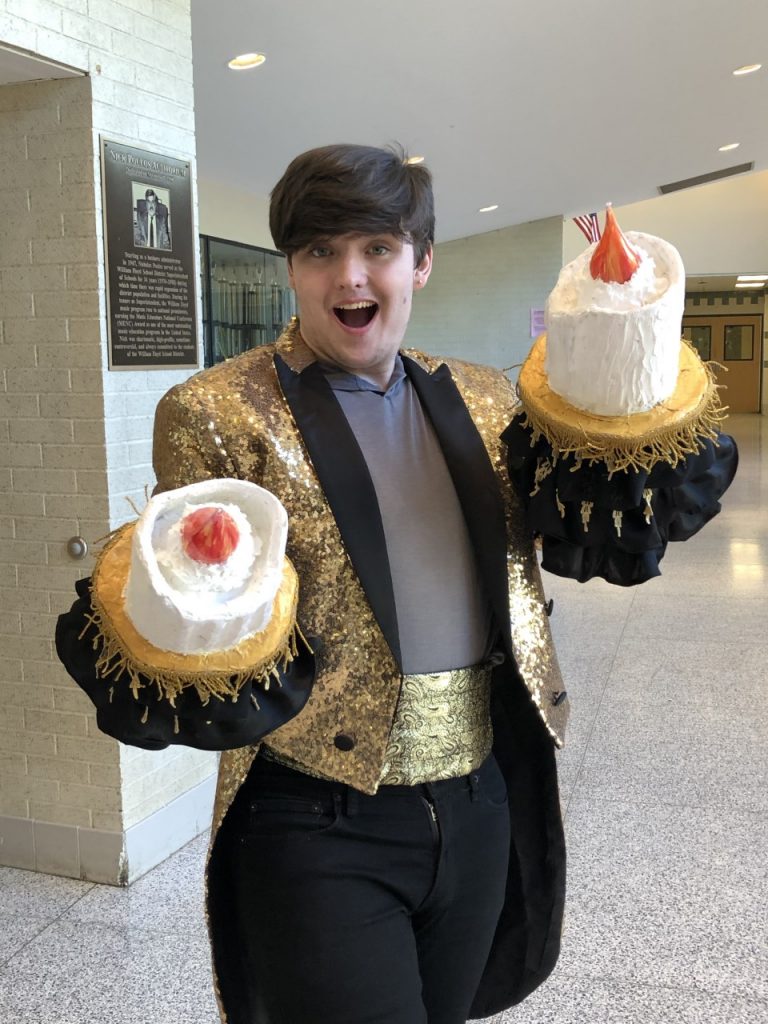 It's almost show time! Beauty and the Beast at William Floyd High School opens on February 28th, and our own Children's and Parents' Services Department page Kevin Ryan is making his performance debut as Lumiere, the debonair French candelabra.
Kevin has only been working as a page for a few months, but he has been a fixture in the Teen Services Department since his first month of high school. "I started coming on September 18th of my freshman year, and I was here every day basically until closing" he recalls. "I started out using the computers, doing art, and slowly but surely I evolved into talking to everyone, it's like family now." Kevin has been so affected by these last three years in the teen department that he plans to pursue a career in library science. "It's like when a teacher is really connected to their students, and is able to hit a part of them that makes them want to be a teacher, that's how it was for me with librarians. I've done most of my growing up in the library." He credits the teen librarians for nurturing his confidence and helping him break out of his shell. "Every person there has done something in some way, shape or form to help me grow as a person," he said. "I walked in there as a shy, not talkative individual. I am going to be walking out this June as an outgoing, caring person that is going to have an amazing time after high school."
It seemed like a clear next step for Kevin to take a job in the library, but he was nervous. "I was so scared at first, I thought they would fire me, but soon I started to relax and it's an amazing place, I find it so much fun to do my job, to interact with the librarians, I couldn't be happier."
It's unusual for a senior with no prior experience to be cast in a lead role, but Kevin stood out. Producer Cathy Meinhold was impressed by his audition. "I asked him where he's been hiding these past three years," she said. "We're very glad he came out this year, it's no small challenge to not only learn the part, but to learn everything else that goes along with a lead role, such as blocking, choreography and taking stage direction." Kevin is also happy that he took on the challenge. "I wasn't confident, I wasn't sure of myself, and this year I wanted to grow out of that, and here I am as a lead, I am enjoying my whole time here," he said. "Now that it's all coming together and starting to wrap up, it's sad that it's going to be over, but exciting knowing that those three times I perform will be some of the best times of this whole year, and I'll never forget it."
Kevin strongly encourages everyone to come see the show. "I'm in it, and I'm hilarious," he joked. "These voices; every other lead in this play sounds amazing, the ensemble sounds amazing, it's going to be great".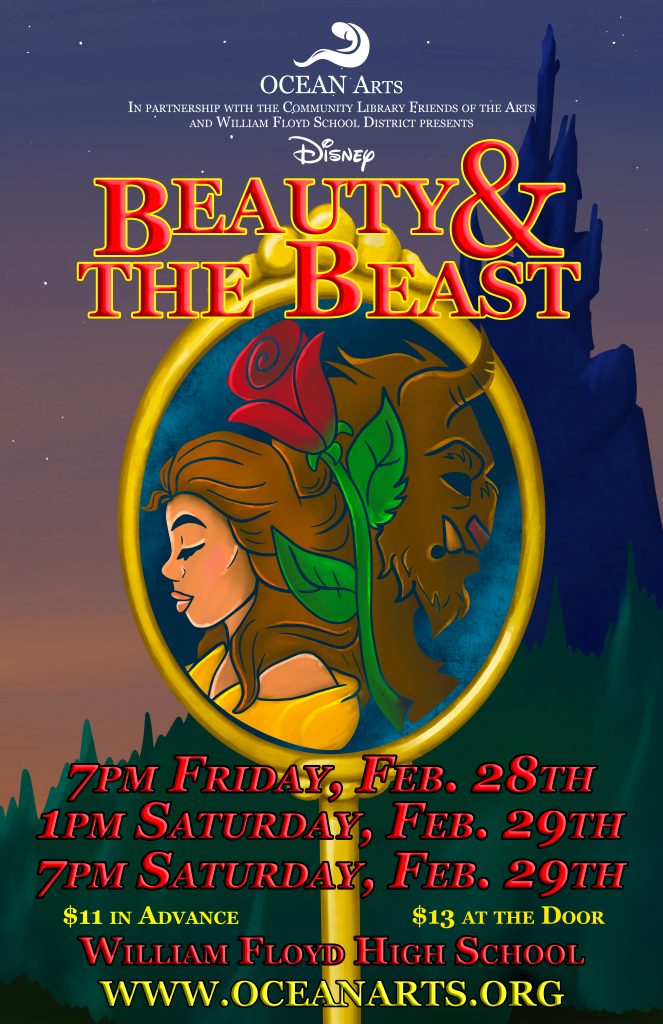 Tickets for Beauty and the Beast are available here at the Community Library or online at www.oceanarts.org for $11 each until Friday. After that, they can be purchased at the door for $13. Shows are Friday, February 28th at 7:00 p.m., and Saturday, February 29th at 1:00 p.m. and 7:00 p.m. There is a meet and greet with the cast following the matinee show, and the Children's and Parents' Services Department will be on hand giving out free books while supplies last.