We all know how important it is to encourage our children to read, but once they are reading independently, it can be difficult to keep them interested when there are so many other distractions in the modern world. Sometimes, getting a child engaged takes a little something extra to spark them into wanting to read for themselves.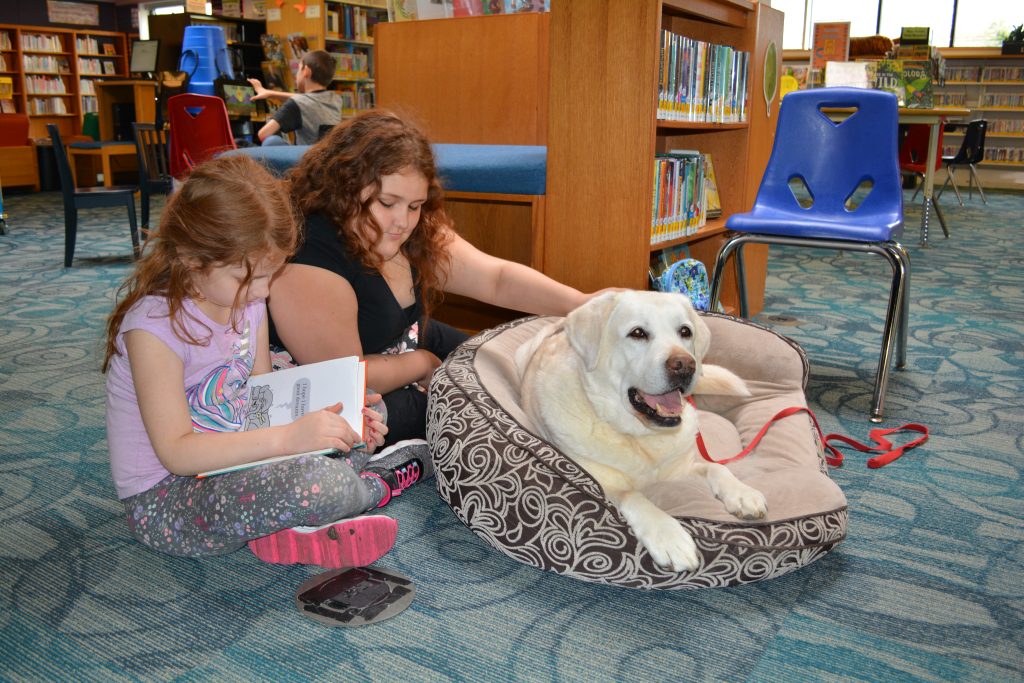 A really great motivator for young readers is our program "Tail Waggin' and Readin' Fun", which is coming back to the library beginning February 1st! This is a fun drop-in program featuring the sweetest dogs ever. Children who come to see the reading dogs are given a fifteen-minute time slot to snuggle up and read to the gentle pups. This has been a really popular program in the past and the library is thrilled have it back. "Tail-waggin' and Readin' Fun" allows kids to practice reading skills and reading aloud to a creature who never corrects their reading or judges them if they read slowly. Positive interactions like that can also lead into pursuing their curiosity through reading. Are there fiction stories about dogs they might like? Do they want to learn about dog breeds or therapy dogs? Ask a librarian for help finding a book! This program does not require registration, just stop in between 4:30 and 6:00 any Tuesday in February for a visit with our furry friends.
Our other library creatures can spark curiosity that can turn into reading as well. This winter we have two delightful Northern Leopard Frogs as guests, and on display next to them are some books ready to be checked out. There are other non-fiction as well as fiction books about frogs for all ages just waiting to be discovered. What questions might your child have that can be answered in a book? Are there any funny frog picture books? Ask a librarian and hop down the path toward reading for fun!
https://www.readbrightly.com/the-many-benefits-of-reading-with-animals/
https://www.scholastic.com/parents/books-and-reading/raise-a-reader-blog/4-ways-reading-aloud-to-animals-can-help-build-your-childs.html