The weather is changing, school is in full swing and our focus changes from outdoors to indoors, but maybe it doesn't have to! Fall is the perfect time to get outside and get in touch with the natural world and the creatures that inhabit it, and the library is here to help. We have lots of programs and resources to keep you busy outdoors throughout the crisp fall days.
There are still On-The-Road programs to take advantage of, including "Toddler Fun" on November 13th at Southaven Park. Miss Hilary has also been having lots of fun at Wertheim Wildlife Refuge on Wednesday mornings. Sign up and come down for a free book and nature activities. There are also several teen and adult programs taking place outdoors, so check the program calendar often, as activities are added regularly. Many of these activities require advance registration, so remember to sign up online or call!
If you're interested in learning more about the wildlife that surrounds us, take a look at the video series created by Library Assistant Miss Cathy, called "Miss Cathy's Critter Corner". Some of the critters featured have been visiting the library, so be sure to pop in and see what's new. We've had Monarch Butterfly caterpillars on display for the past couple of months, and now we are celebrating World Earthworm Day 2020 with our own earthworm habitat.
https://www.facebook.com/watch/29746261653/1375304965990998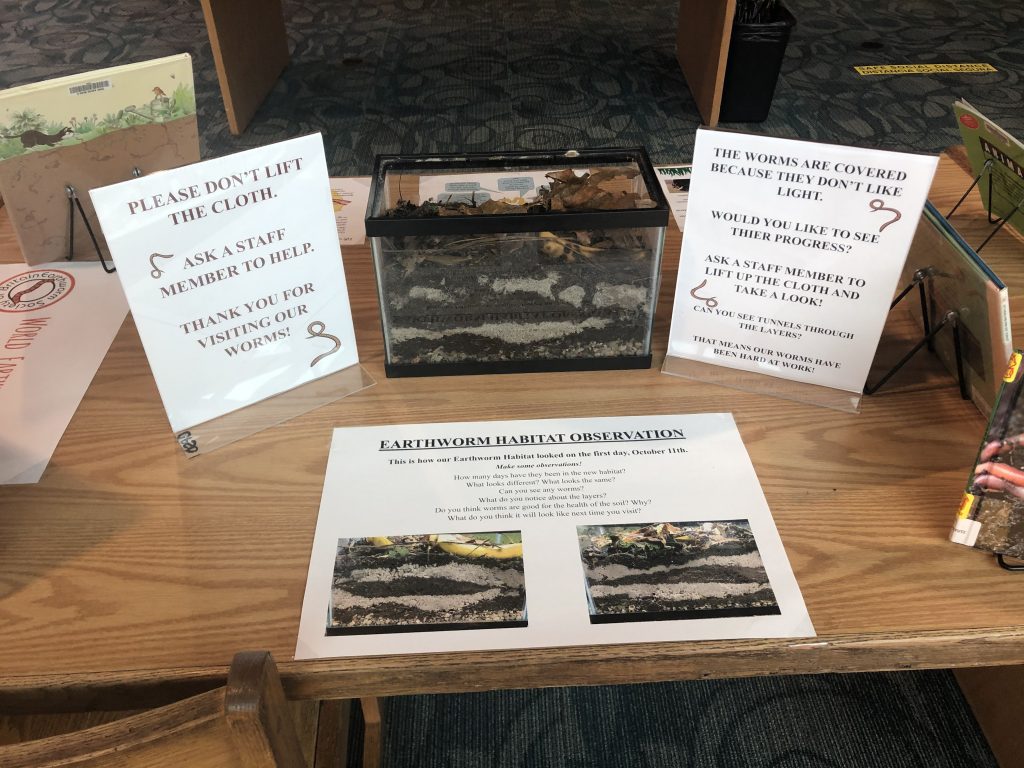 If you're not sure where to take the family for a nature adventure, here are a few suggestions. Close by is Wertheim National Wildlife Refuge on Smith Road in Shirley. The Visitor Center is closed due to Covid 19 regulations, but the trails are open and there are picnic tables and a deck where you can watch the birds. A good portion of the White Oak Trail is mostly flat and smooth and good for strollers and little ones. South Haven Park is another great spot, right in our own backyard. There is no cost to park at this time of year, and dogs are permitted on leashes, so take a walk along the water, or around the pond. There are ballfields and playgrounds as well, and many of the trails are good for mountain biking as well. Please bring masks for when you can't socially distance and follow all safety guidelines. If you'd like to explore a bit farther away, there are some great options on the Museum Pass list. We recommend Cold Spring Harbor Fish Hatchery and the South Fork Natural History Museum in particular. Both destinations have great outdoor spaces to explore, so book your passes today. Make sure to check for updated information on rules and hours before heading out.
http://www.libraryinsight.com/mpbymuseum.asp?jx=y7
It's so important for both mental and physical health to get outside as much as possible during these difficult times. This article from healthychildren.org has more great suggestions on how to engage your whole family in fun activities. And remember to visit the library online or in person to see how we can help keep everyone happy, healthy, informed and entertained as the seasons change.
https://www.healthychildren.org/English/health-issues/conditions/COVID-19/Pages/Getting-Children-and-Teens-Outside-While-Social-Distancing.aspx