Michelle Romero, a page in the Children's and Parents' Services Department, was recently honored with a volunteer award by Suffolk County and a 500-hour award from Colonial Youth and Family Services. We are so proud of this young woman, who has been giving back since 6th grade (especially meaningful in this season of Thanksgiving) and has a wonderful story of perseverance, determination and the power of volunteering, which begins here at our library.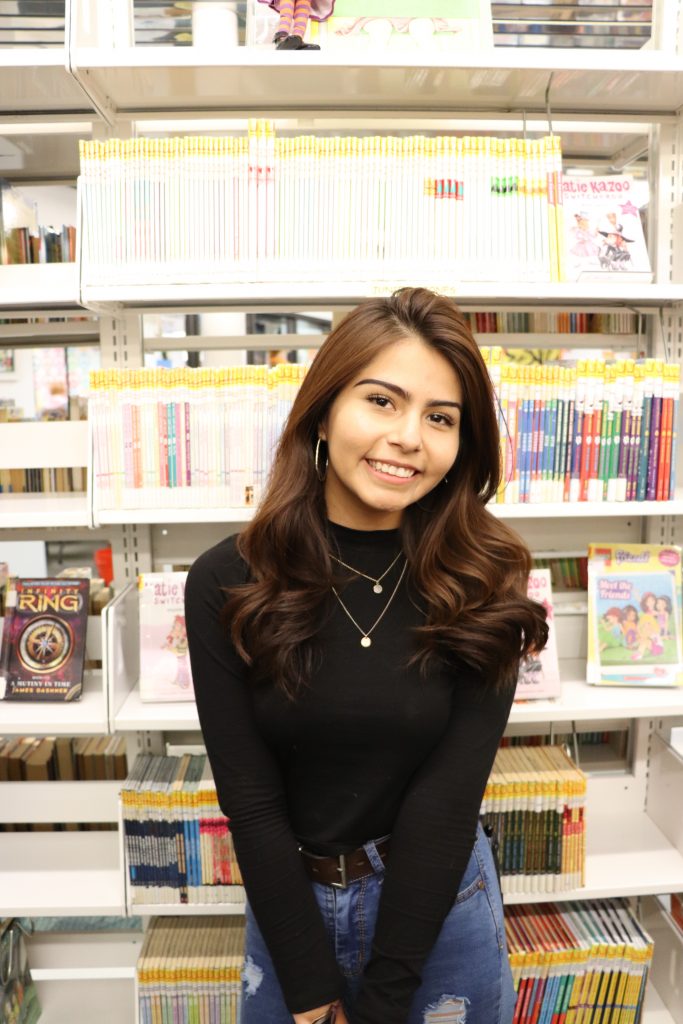 Michelle, 18 years old, was born to parents who emigrated from Peru to pursue the American dream. She and her three siblings – Anna, Louis and Andrew – were raised primarily by their mother, Anna. She worked many hours for low wages to support her family. Mrs. Romero knew that learning English would open doors for her, and she soon discovered that the library's Literacy Services Department had a family program that would help her learn English while also providing literacy enrichment activities for her children with the help of staff from the children's department. The library quickly became a safe haven for her and her children. She took as many English language classes as she could while the kids learned and socialized with other children for whom English was not their first language. The Romero family made the most of the extensive opportunities offered by the Children's and Parents' Services Department as well, signing up for many programs and spending much of their free time at the library. The Romeros took education very seriously. When the girls entered middle school, their mom started looking for community service options. She found the perfect opportunity right in front of her. Both girls became volunteers for Learning English: A Family Affair (or LEFA), the very program they had been attending. "We passed out cups and plates, helped with whatever. Sometimes we translated for the kids," said Michelle.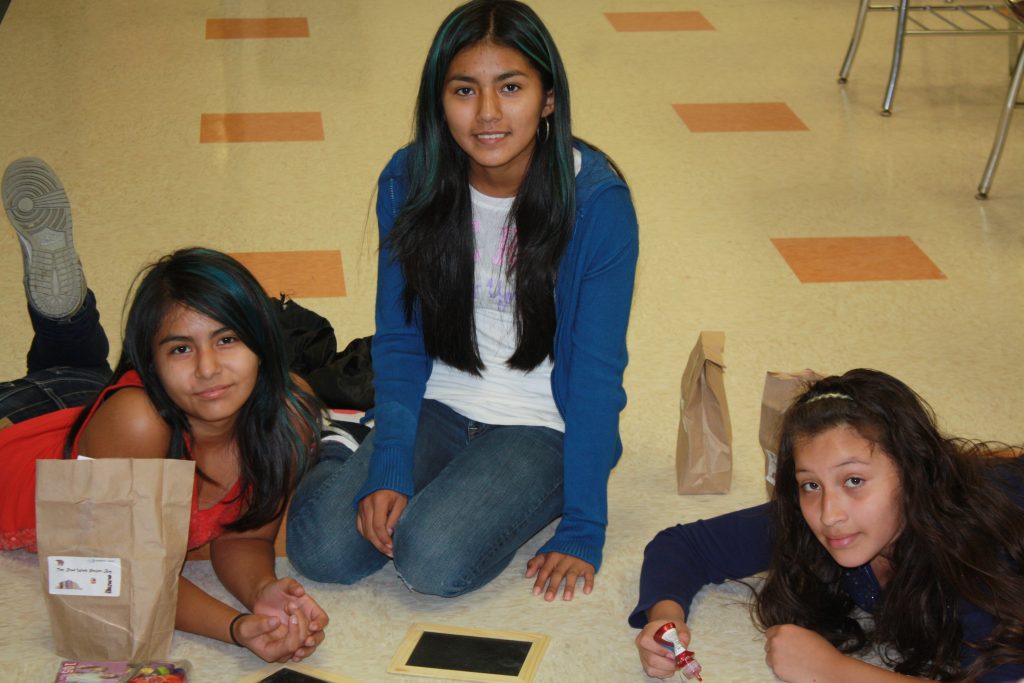 When they faced difficult times after Mr. Romero returned to Peru, Mrs. Romero realized that she and her young brood needed some help. She reached out to Colonial Youth and Family Services. She discovered much more than the counseling they all needed. "We were all having a tough time after my dad left; we were all depressed," said Michelle. "Mom found out about the volunteering and that they would pick us up. She encouraged us to go." After a slow start, Michelle began to feel at home there and soon became a fixture at all the community events Colonial attends. Later, when they each turned 16, Anna and Michelle applied for jobs at the library. Anna started as a page in literacy services and now works in information technology. Michelle is a page in children's services; she has come full circle, now working with families as a library employee in the very program she started in as a shy little girl who barely spoke.
Both Anna and Michelle are attending Suffolk Community College with bright futures ahead of them. Mrs. Romero has moved on from English classes to earn a CNA certification from SUNY Farmingdale and plans to pursue a nursing degree. Louis and Andrew also volunteer with Colonial Youth as they complete their high school educations.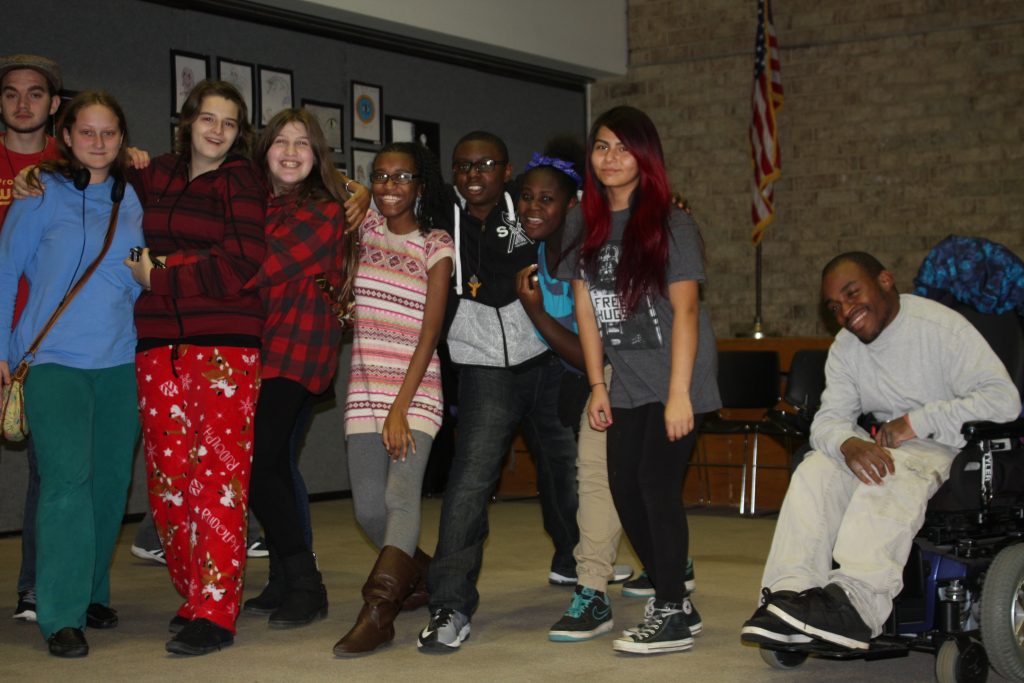 In October, Michelle received an award for 500 hours of community service, but this is hardly her only award. She also recently received a Suffolk County Youth Achievement award as well as a Brookhaven Town award for her volunteerism. In 2017, Anna and Michelle together were awarded the Town of Brookhaven Volunteer of the Year award. Michelle has no plans to slow down. "I really do like helping, and being around people and talking to people," she said. "Just to find that comfort, and bring comfort to people like me." She has discovered a new part of herself, and is open and friendly now; very different from the little girl who hid her face.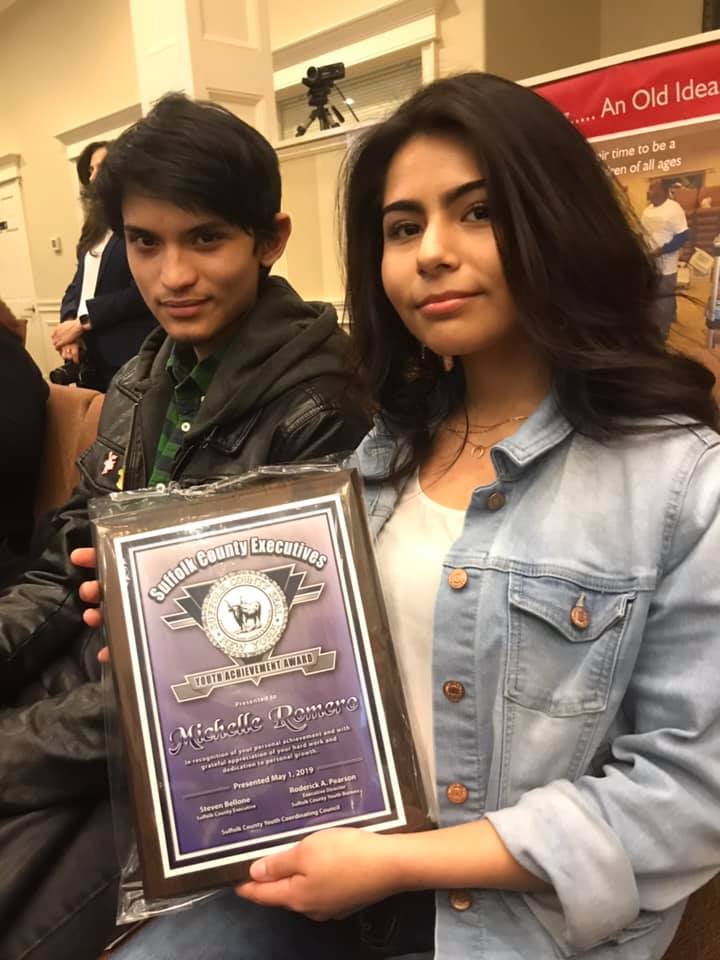 It's a privilege to work with Michelle every day and to see first-hand the effect our library programs have had on her family. Congratulations, Michelle! We look forward to watching your future success.