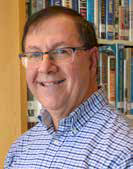 Mike Dubois was appointed as a Library Trustee in January 2019 by the Library Trustee Board following a two month search and interview process. He was selected to fill a vacancy that was created last year when a board member retired.
Mike has resided in the Mastic Beach/Shirley area for over 30 years along with his wife and four children.
He is the current President of local community youth sports organization, All Faith Soccer League and has been involved with the league as a volunteer coach and former Treasurer for 20+ years.
Mike is a knight with the Knights of Columbus Council 5293 and former member of the Suffolk County Sheriff's "Citizens Advisory Board".
He has 33 years of contracts and purchasing management experience, most recently with Brookhaven National Laboratory, including an extensive background in commercial building construction and renovations. Mike has a Master's in Business (MBA) from Rensselaer Polytechnic Institute.